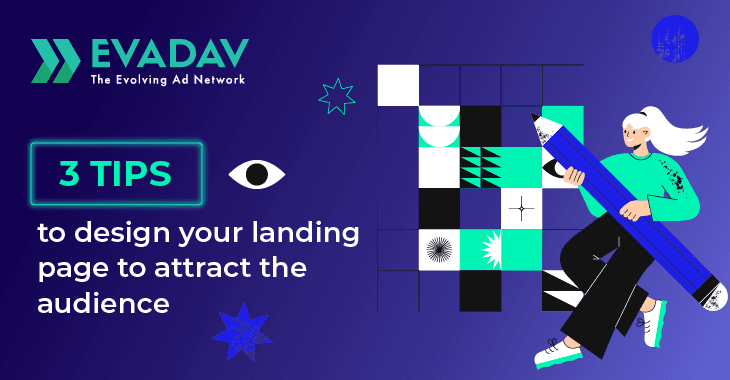 3 awesome tips to design your landing page to attract the audience🔥
What is the best way to convert visitors into returning customers so that your business can generate more sales? Do you have the right features on your website to maximize your sales output and your return on investment? Let's find out how to do this with Evadav!
3 awesome tips to design your landing page
Creating well-designed landing pages can help attract new customers, convert their excitement into sales, and if all goes well, create repeat customers.
🚀Make it structured and mobile-friendly
The effectiveness of your landing pages depends on the structure you use. You should make it easy for visitors to convert on your landing page, so all elements of the page should contribute to that objective, whether that is filling out a form, making a purchase, signing up for a newsletter, or downloading an ebook.
Color and eye-catching images are key to an effective landing page design. There are certain colors that are said to increase landing page conversions, such as red or green, but above all, make sure your button color contrasts strongly with your background. To ensure an effective landing page, you should test many button attributes - test color, placement, and size to find the best layout.

💰Place the in-page ad you want on your landing page. Test as many ceatives as you want for your ad with Evadav -> https://bit.ly/3LWbOz8
🚀Make it trustworthy
Add some trust signals to your landing page to make users trust you. Trust signals are the visitors' reviews, testimonials etc. Similarly to such signals, you can use trust badges, which are the logos of widespread brands. Both badges and signals prove the quality of your service or product.
🚀Make it personal and unique
Your offer will likely generate a variety of traffic if you promote it properly. It's a good idea to customize landing pages for different audiences. Users who arrive at your landing page from a Facebook post or a tweet are very different from those who arrive from a PPC ad or a link in a monthly newsletter.
💰After your landing page is done, launch Push ad campaign to make users know about you. Try Push notifications with Evadav-> https://bit.ly/3LWbOz8

Read also: 🔥Affiliate marketing trends Spring 2022🔥