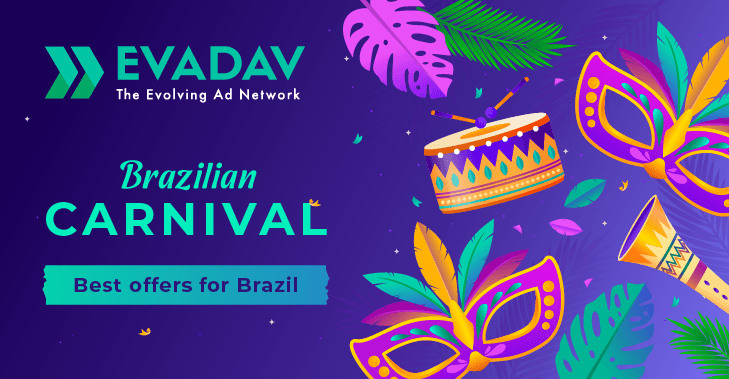 Best Affiliate Offers for Brazil
Brazil is considered to be one of the hottest sources of traffic for affiliates. So it's high time to join the Brazil Carnival celebration by getting the most out of it! 🦜
From internet traffic to advertising, there's huge potential for affiliates in Brazil. We have made a quick guide on why Brazil is worth your attention. Read on!
🇧🇷 The Potential of Brazil for Affiliates
The potential of Brazil for affiliates is vast. The country has a large population with a growing middle class and a rapidly expanding economy. This makes it an attractive market for businesses looking to expand their customer base.
There are a few key factors that make Brazil an especially appealing market for affiliate marketing.
First, Brazil has high internet penetration rates. In 2020, approximately 82% of the population had access to the internet.
Second, Brazilian consumers are increasingly turning to online channels to make purchase decisions. As of 2021, 87.7 million online shoppers of Brazilians research products online before making a purchase.
E-commerce in Brazil made up 18% of the share of retail in 2022. This number is expected to grow as online shopping becomes more prevalent in the country. Also, 18% of wealthier Brazilians save their money in cryptocurrencies, according to representatives of the Central Bank's Digital Currency.
Third, Brazil is home to many major companies that are already using affiliate marketing to reach their target audiences. These companies include Grupo Boticário, Natura, and Sephora. This shows that there is already a demand for this type of marketing in the country.
Fourth and final point, Brazil has strict laws governing data privacy and data protection. These laws are designed to protect consumers from having their personal information mishandled by businesses. This provides an additional level of security for enterprises that use affiliate marketing programs in Brazil.
🤑Choose Brazil Geo and Join Evadav to Monetize Your Offers
🎭 What is the Brazilian Carnival
The Brazilian Carnival is an annual festival held in Rio de Janeiro, Brazil. The event is celebrated during the four days preceding Ash Wednesday, and typically features elaborate costumes, floats, and street parties.
Today, the Brazilian Carnival is one of the most popular events in Rio de Janeiro, attracting visitors from all over the world. Looking to get the most out of the Brazilian Carnival? It's a great chance for you to gain more money on affiliate offers - check them out!
🤑Join the Brazil Carnival Celebration and Launch your Campaigns with Evadav
🚀 Best Affiliate Offers for Brazil
There are a number of affiliate marketing programs that businesses can use to reach potential customers in Brazil. Some of the most popular include:
🎁AWIN
Over 241,000 active publishers generate 182 million sales across 17 markets with Awin. With local experts working within each market, AWIN's account management teams are fully equipped to drive advertisers' online strategy forward on a global scale. The company works with:
3,400+ partners promoting in the finance and insurance sectors, including Money Saving Expert, Money.co.uk, Quidco, and TopCashback.

31,600+ partners promoting in the retail and shopping sectors, including rewardStyle, ShopStyle, Lyst and Intu.

9,500 partners promoting in the telco and services sectors, including uSwitch, MoneySuperMarket and broadbandchoices.com.

11,400 partners promoting in the travel sector, including Travel Supermarket, Telegraph Travel and Holiday Pirates.
Join AWIN here
🎁ShareASale Network
It's a perfect match for publishers. Affiliates, bloggers, vloggers, podcasters, influencers, and website owners looking for new sources of revenue will find ShareASale useful. Using ShareaSale, you can promote retailers, track which transactions earn commissions, view easy-to-read reports, and, most importantly, receive your earnings on time.
Join the program here
🎁Amazon Associates
Amazon Associates is an affiliate marketing program that allows businesses to promote products from Amazon.com on their own websites or blogs. Businesses can choose which products to promote and earn a commission on each sale made through their site.
Join the program here
🎁ClickBank
ClickBank is the preferred marketplace of more than 100,000 affiliates worldwide, and with good reason: they've paid over $5.7 billion in commissions on time for more than 25 years!
Take advantage of high commissions, quality products, and reliable tracking by registering for a free ClickBank account.
With Revenue Share and CPA commissions, the company offers some of the highest commissions in the industry. Their customized order forms lead to higher conversions.
Join ClickBank here
🤑Join Evadav and launch your campaigns
Read Also: AI Tools for Affiliates