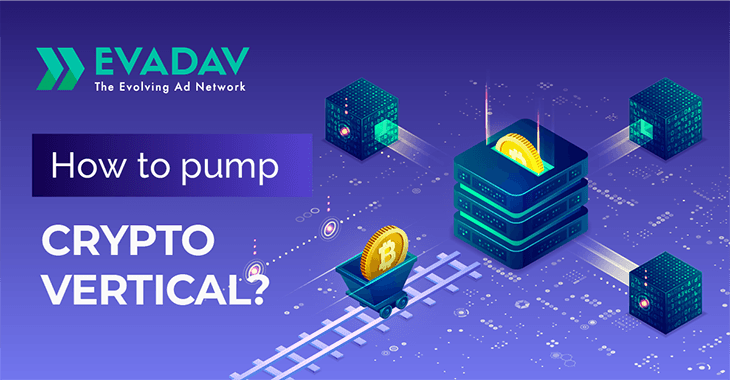 A full guide for crypto vertical in 2022
The traffic you need to pump to the max
Cryptocurrency takes this world over. Only 10 years ago nobody believed that buying bitcoin was promising. Nowadays crypto is everywhere: games, investments, payment systems. Salvadoran authorities have even started building Bitcoin City free of taxes and based on geothermal energy sources.
Earlier people faced a problem if they couldn't find Webmoney or Skrill payment methods on a website. And now they prefer a website with a cryptocurrency payment option. Also, cryptocurrency is claimed to become the main payment method in the iGaming sphere in 2022.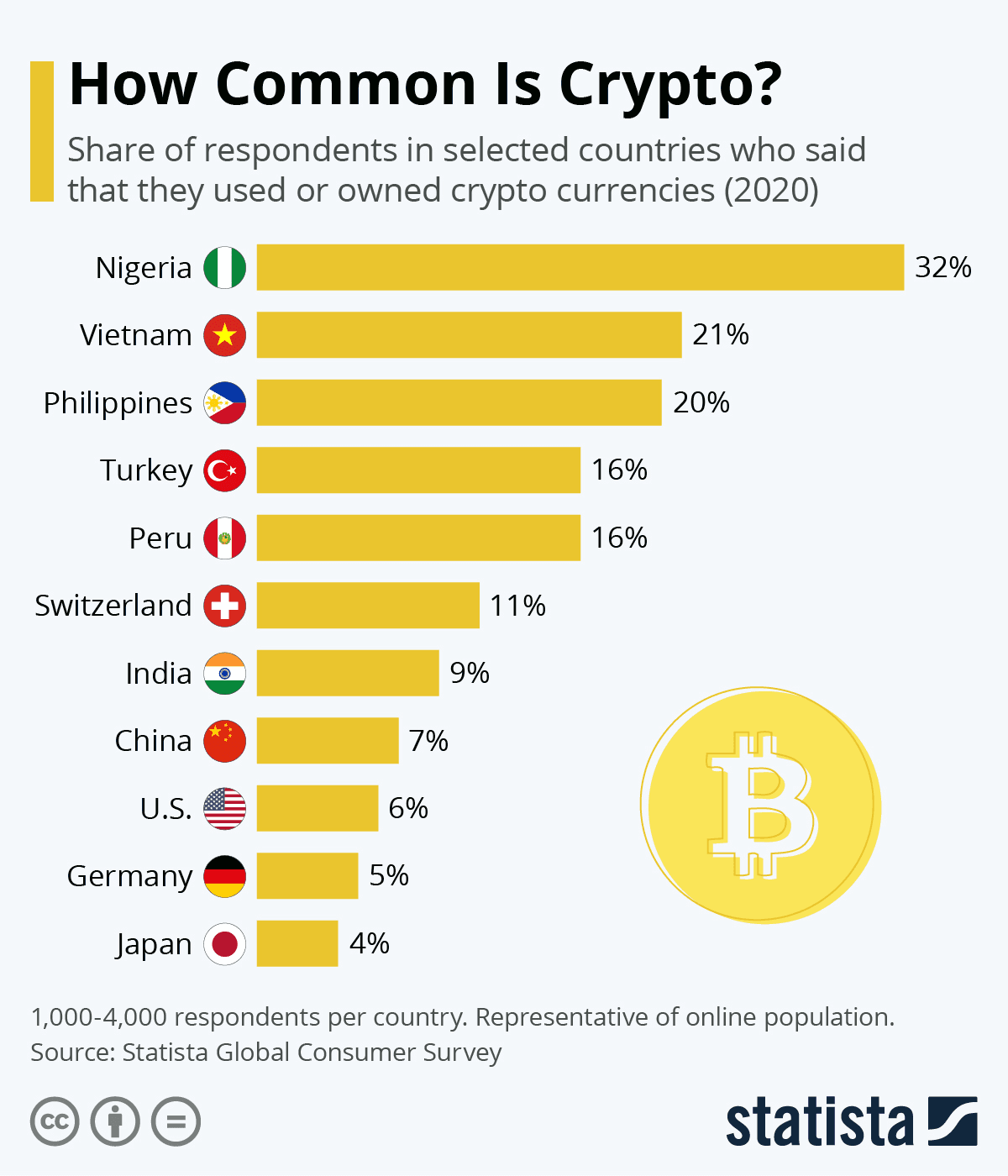 Several countries accept more than 20% of cryptocurrency payments.
One can make money on crypto with the help of not only mining and investments but also arbitrage. The Evadav team has prepared a detailed review of the Cryptocurrency vertical: we'll tell you about its features, audience, landings, and creatives, what formats to work with, and, also, we'll advise on the offers with the best conditions.
The Cryptocurrency vertical review
The cryptocurrency vertical is one of the most hype and fast-developing ones for several years in a row. Bitcoins and altcoins show the price progress and are always discussed, so the consumers' interest grows. Both hype and curiosity give great profit (with the proper approach).
Crypto is still a gray vertical thus countries and ad platforms regulate crypto ads in different ways. For instance, Google plans to lift the ban on this kind of ads but selectively, considering geo.
Crypto is available on evadav.com and it gives a good profit.
Traffic rates and competition are quite high in this niche. However, the payback is worth spendings.
Crypto usually works on the CPS (making deposit) model. But CPL and RevShare can be used as well.
Test campaigns in the crypto vertical with Evadav!
The benefits of crypto vertical
The behavior of users buying crypto is more like casino fans. Therefore all who worked with gambling can enter the crypto vertical and try all their tricks and tips.
Crypto vertical pros:
high rates for a lead – from $150 to $1000. Pro teams can find more profitable offers;

wide target audience – you can work with crypto vertical on almost any geo;

advertisers are keen to spend more budgets on solvent quality traffic;

a big room for ideas. You can come up with plenty of creatives, landing pages, and pick the best from them.
Talking about profit, under equal amounts of conversion and leads gambling vertical will perform ROI 100%, while crypto vertical - 250%.
Types of crypto offers
The vertical can be divided into 4 directions. Each of them has its features and different amounts of payouts.
1. Blockchain technology learning:
Offer's main goal – is to sell training.
Payouts – from $250/lead.
It's hard to work with this offer, as people don't want to spend money on training, they want to start making money at once.
2. Investments:
Offer's main goal – is to get money on deposit.
Payouts – from $150 to $1500+ on CPA model per lead, who completed target action and toped up the account on the exchange.
Investment is the most popular direction now. You can offer individual investing or sharing revenue with the platform trader. Such offers show good conversion.
3. Trading:
Offer's main goal – is to sell training and get money on deposit.
Payouts – from $150 to $1500+ per user (the same as in Investments).
This direction is as complicated as blockchain training is. Not many people are willing to learn. They usually associate crypto with passive income and fast earning.
4. Autotrading:
Offer's main goal – is to sell software and get money on deposit.
Payouts – from $150/lead.
There's no training here, but only a robot provided by brokers. It will process trading instead of a human, saving up his/her time on learning. Such offers are good for English-language traffic.
You can also find ICO and cryptocurrency exchange offers. And if the last one is clear, then ICO is an investment into little-known tokens with the purpose of further profit.
Create ad campaigns with Evadav!
Specifics of working with crypto verticals
The more arbitrage managers start pouring traffic on crypto, but not all of them stay for long. The main difficulty is that you need to warm up your audience properly to make them top up a deposit.
Therefore the barrier to entry is pretty high: quality landings and creatives cost much. It may take around $1000 and one month to find a working solution, but still, it will work 3-10 months with the minimum work on making unique content.
The advantages of working with crypto offers:
you can get from $150 per one lead;

there's no hold – you can get the payout once the lead completes a deposit;

«warm» audience = it's easy to attract the target audience with all the hype around investments and cryptocurrency;

bans are less than in other verticals;

Most advertisers are ready to prepay and help with consumables.
Disadvantages and risks:
you'll need more time and money to prepare creatives and pre-landers. Quality over quantity;

big competition – not everyone will play fair. Some may send a report on your ads;

high barrier to entry – one does not simply create an ad campaign with only $50 in a pocket and get a good profit.
An average amount to start in the crypto vertical – $500-1000 (without software and consumables).
Target audience profile
Crypto Investors' target audience looks like gamblers – men of 25-55 y.o., with upper-middle-income. Those younger are usually non-solvent and can't make a deposit. Elder people still don't trust the internet.
By the way, women are also gambling and their amount in cryptocurrency trading is significantly growing in recent years. So you can spend a part of your budget and run ads targeted to them.
Most people enter trading to make money, but also, there are those driven by emotions – the excitement from a chance to get х5-х10 from the invested money. It should be an audience with upper-middle-income as long as the minimum deposit is $100 - $400.
Creatives
The success of ad campaigns depends on creatives. You can make a super pre-lander, but if nobody clicks on the ad, it won't be seen.
Creative types:
1) with luxury elements: expensive cars, fancy life, yachts, restaurants, watches, money: everything human needs, but can't afford with an average salary.
We've gathered several options. Sure they don't convert as much as they used to. But still, you can grab some inspiration from them. A selfie of a real person with money will work as well.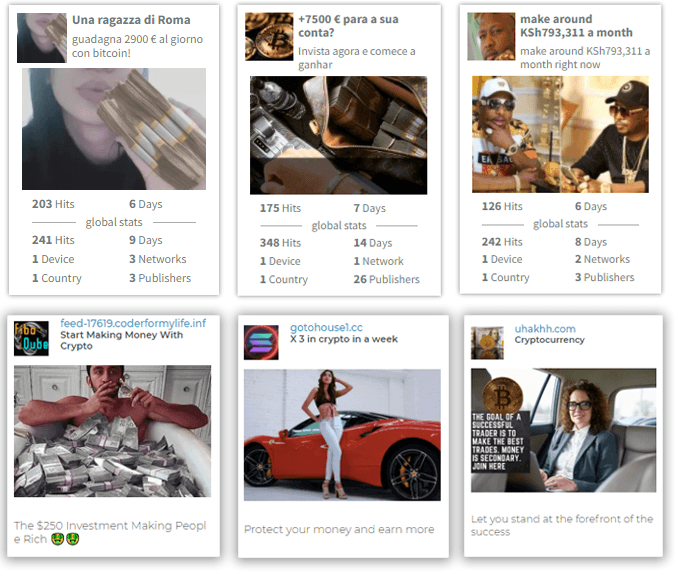 2) to advertise the exchanges such as Binance you can use their creatives because a strong brand gains trust and gives good CTR.

Also, you can emphasize the ability to get rich, but with a bit of personalization. For instance, you can use the currency of certain geo.
3) the creative that looks like a TV spot can enhance a clickthrough rate. People will try to click the "Play" button and get to your pre-lander.

4) charts with growing rates convert great as well. You can type in the headline: «Bitcoin grew by 10 000$» or «Bitcoin is going up again», etc.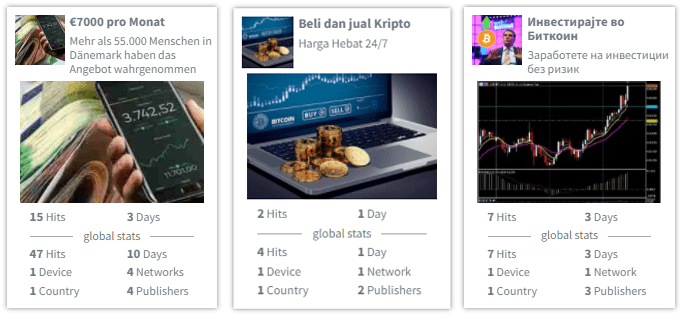 5) Success stories that encourage clicking ads and reading information. It would be great if you use the images of people popular in certain geo. But don't forget people may have different tempers in each country and copyright style depends on it a lot.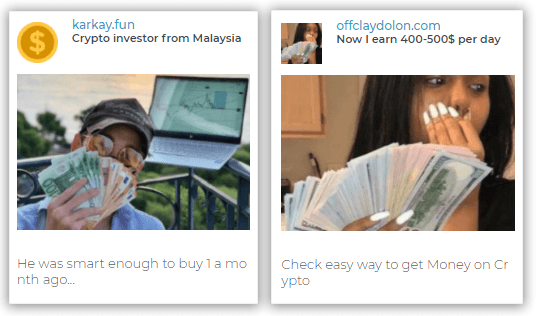 Newbies vs pro users
It's better to split traffic on newbies who have no experience of working with crypto and experienced users.
For the first group, we'll show simple creatives which raise the interest and hit all pain spots. You need to show that bitcoin gives a huge income and a user can give up his/her hated job and start earning money easily, etc.
For experienced ones, we'll show stats and charts, payback, and write success stories on pre-landers.
Tips on making creatives
You need to keep the balance: your creative should hit the target audience, and at the same time, pass the moderation. We've prepared several tips on how to make creatives properly:
Study properly the target audience of the geo you target: how much money they make, what their interests are.

Don't copy other creatives, most likely they won't bring you desired profit.

Use triggers: money, expensive cars, jewelry, villas, destinations, etc.

Set time frames. People want to get money now, not in a year or ten.

Choosing characters for your creatives, stick to real persons from the right geo. Photoshopped and staged images don't touch anymore.

Your creative should align with the pre-lander and landing page of the offer, and logically complement each other.

If you pour traffic on the English-language market, don't save up on a skilled interpreter – basic programmatic translation won't help you.
By the way, you can always contact your personal Evadav manager – he/she will evaluate your creatives and advise you on the best solutions to work with.
Landing pages
It depends on the landing page the same as on creatives. There are cases when without strong landing clients came but they were not ready to invest money. They spent time and brought ad campaigns to negative ROI.
We've prepared several recommendations on how to create landings, with examples. It may help you to understand the direction of creating them.
1. Here we use a solution: famous people, learning how to earn money. Landing is written on behalf of Phillip Evans, senior advisor of Boston Consulting Group in Bosnia.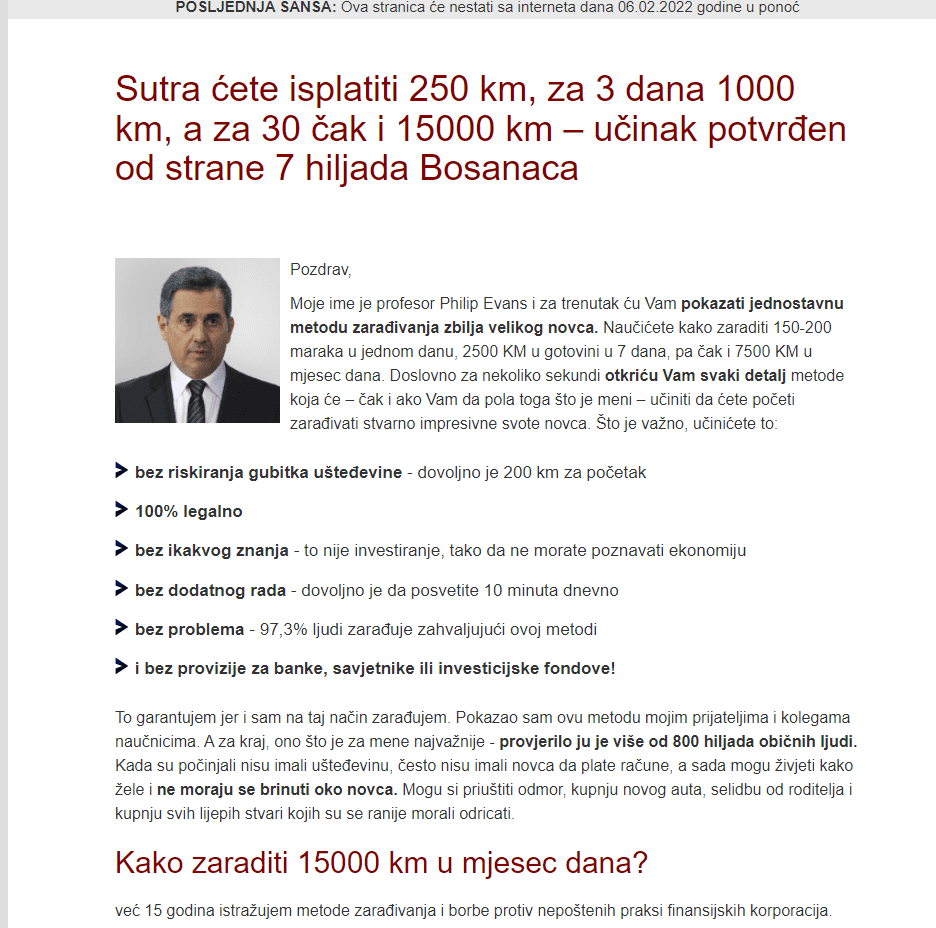 2. Promising fast money converts great as well. By the way, there are also stories of crypto investors who successfully invested their money and quit their jobs on this landing.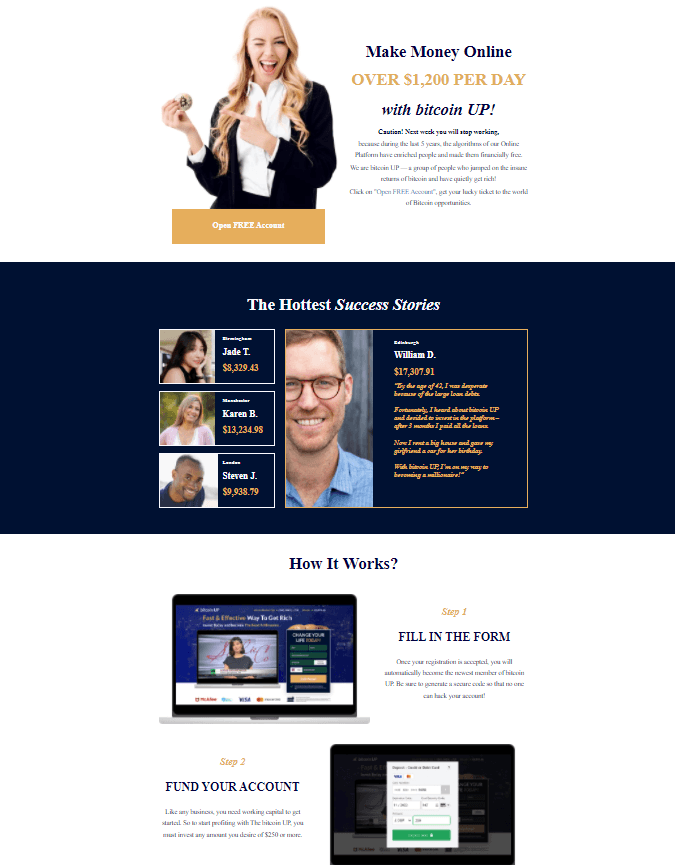 3. News websites, which look like popular news sources. It gains trust and stories of purchasing a training course and investing money in crypto will work better. Below is the example of news about a family that invested money in cryptocurrency and made millions.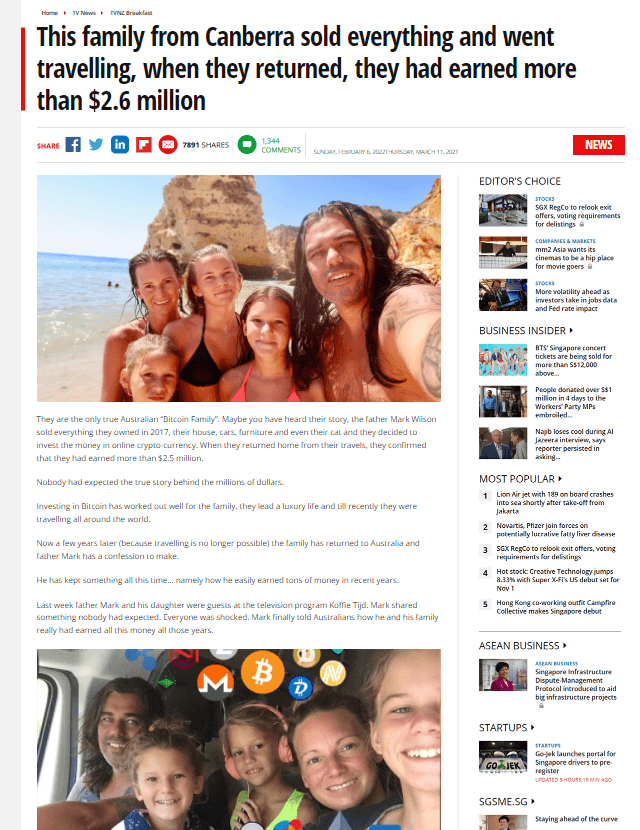 How to choose a crypto offer?
The main difficulty of working with crypto is that this sphere is half-legal. Some countries take steps to regulate cryptocurrency with the law, and in some countries, it's fully prohibited and you can't work with white partnership programs there.
To choose a good and reliable offer:
Use ratings of partnership programs and study reviews about advertisers.

Look towards offers from large crypto exchanges.

Compare offers with your colleagues – it will help you to choose the most profitable one.

Read carefully all the terms and conditions of the offer and if any questions occur, discuss them with managers.

Don't look towards offers that are not popular among webmasters. Better choose TOP or average offers, tested and approved by other arbitrage managers.

There are many decent, fair, and reliable advertisers and those willing to get traffic for free by accusing you of all violations in this vertical.
How to choose geo
Choosing geo for work, you need to consider the following:
is crypto prohibited in a chosen country;

citizens average income;

crypto's popularity in a chosen geo;

if the advertiser accepts leads from this geo.
Also, you need to study the overall attitude of residents to cryptocurrency. A lot of scams happened recently and some countries think of crypto negatively and you may get a low conversion.
Top crypto geo in Evadav
In Evadav crypto offers work best with traffic from:
America;

Germany;

England;

Italy;

Poland;

Australia.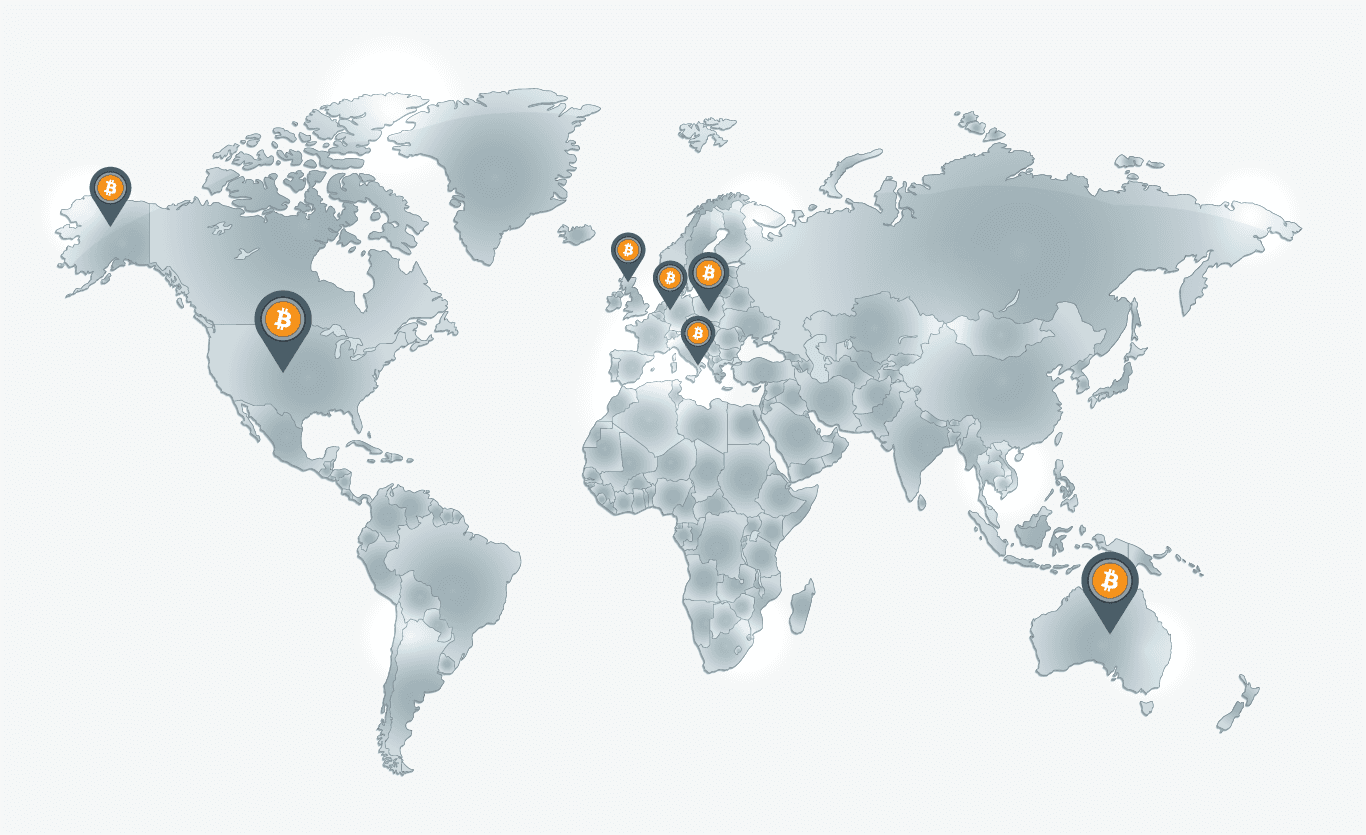 Leads are solvent and interesting, and they bring high profit.
Create an Evadav account, top up your balance and make money on crypto ads!
Traffic channels
Where should you get traffic for crypto offers? There are 8 proven and working sources:
Google ADS – users from browsers bring the most deposits as they are more warmed up. However, crypto is restricted in Ads. Therefore, you'll need to find a way to avoid the restriction.

Facebook – the principle is the same as for other verticals on Fb.

Youtube – pros: a big audience. Cons: people watching your pre-rolls should trust you.

TikTok – despite the audience not being that solvent, you can meet young people interested in crypto and willing to make a deposit.

SEO-websites traffic – it's a quite complicated process, but you'll be getting warmed-up leads ready to deposit due to published native.

Email send-outs – they still work, however, you need to have an address base + not all offers accept traffic from emails.

Push-notifications – it's one of the cheapest ways to get traffic.

Pop-under – is a simple and affordable format adapting to any device. But it can annoy users and influence the website's SEO negatively.
Everyone chooses what's best for him/her to get traffic.
What formats are popular in Evadav
If an advertiser prefers leads, then classic push and pop-under will work best. Their advantage is that they are easy to use. Therefore they are so popular. If the advertiser considers the maximum lifespan and LTV of these leads, then it's important to pick the most qualified sources and audiences and make tests additionally.
Native is often on-demand as it's the most organic format. And it means a warmed-up audience willing to make a deposit.
In-page is seldom used: it's hard for optimization due to high volumes. However, under a proper setup and optimization, it can work effectively as well.
We recommend basing on the offer type and your main goals. Each format should be tested and selected best for you.
Setting ad campaigns up and Evadav tips
We give you a step-by-step manual on creating an ad campaign for crypto offers. These steps will lead you to success:
Select offer: make sure you're ok with the terms and conditions before you start working with them.

Make up your mind with the geo you're going to work with. Consider the offer and overall standard of living in a chosen country. Bear in mind, crypto demands people with upper-middle-income.

Make a target audience profile. What are its pains and problems? Why will they benefit from investing in crypto? What problems will this investment solve?

Make creatives, based on target audience profile and geo.

Made up pre-landers – 99% of successful pre-lander's usage cases. It helps to cut off the traffic you don't need.

Launch campaigns with different formats to test them and select the one giving you the best results.

Run testing of creatives and pre-landers to pick the most converting ones.

Don't forget optimization: automated rules, black and white lists, and postback will help you not to waste your budget and get more profit.
Now you only need to track stats and wait for requests to flow.
TOP-5 offers in crypto vertical
We've selected 5 crypto offers that may interest you.
1. Bitcoin Bot excl:
Countries: DE, CH, AT.
Goal: deposit from $250.
Restricted: fraud, bots, pops.
Lead cost: up to $935.
2. Profit Secret:
Countries: SE, NO, FI, DK, DE, IT, ES, PL.
Goal: deposit from $250.
Restricted: fraud, bots.
Lead cost: up to $900.
3. Crypto Profit
Countries: RU, PT, SE, NO, FI, DK, DE, IT, ES, PL.
Goal: deposit from $250.
Restricted: fraud, bots, spam.
Lead cost: up to $800.
4. Bitcoin Aussie System
Countries: NL, CH.
Goal: deposit from $250.
Restricted: fraud, bots, spam.
Lead cost: up to $850.
5. Bitcoin Up
Countries: MX, AE, AU, AT, BH and+47 GEO.
Goal: deposit from $250.
Restricted: fraud, bots, spam.
Lead cost: up to $850.
Summary
Few tips to start working smoothly with the crypto vertical:
Evadav tips
Choose new and up-to-date funnels. They can attract the attention of target users more than cliche offers.

Learn offer's average figures in advance. You'll be able to stop the campaign before it makes a hole in your pocket.

Try different traffic sources. Do not stick to only one format. Test several to find yours.

Use spy services and look at what your competitors test. Always run tests. Test different creatives on different platforms, change headlines and pre-landers to find the best solution.

Advise your colleagues and your personal Evadav manager. It will help you not to make others' mistakes.

Choose offers you're sure in. There are many attractive offers on the market, but if they are related to scams, you won't get a good ROI.

Use pre-landers. Thus you'll cut the undesired audience off and increase the conversion.

Create different campaigns. Don't mix different countries, OS, sex, and ages in one campaign. Better make several ads.

Prepare your money. This vertical demands a budget. It may cost you around $1000 to find a profitable solution.

Keep your eye on the cryptocurrency sphere. It will help you to make up-to-date creatives.

Split your budget and spend it wisely. Don't waste all your money on one offer and one launch.
Despite the cryptocurrency market paying a lot, it's not that easy to work with it. You must always keep an eye on this sphere and be ready that your competitors may attack you with reports on your creatives.
However, it pays off with a proper approach.