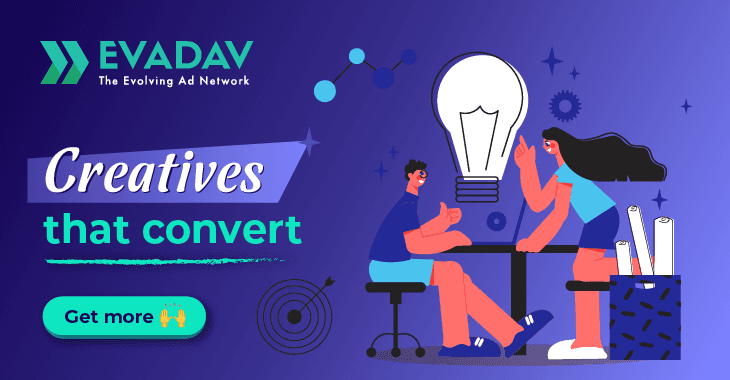 Creatives that convert
✨ Do you know how important are the creatives you add to your campaign? They are the first to draw the attention of the audience. We assembled those that convert the most. Discover them all!
🎆 Create attractive banners
A banner is a graphic image ad linked to your website that is used to promote your products or services. They can raise awareness of your brand and products. Of course, your results will be determined by your creativity.
To get started, follow these steps:
Analyze banner ad requirements and sizes

See examples of banners (including the biggest size)

Make your affiliate banner ads look good

Make sure your banners are compatible with mobile devices

Keep track of affiliate banner performance

Make sure your banners are up to date

If you rebrand, make sure your banners reflect your new brand colors and logo
💡 When you add images to your campaign with Evadav, you can be sure that they adapt the device where they will be displayed.
💫 Show the way your product works
In the absence of prior experience with your product, viewers might have questions about its appearance and functioning in real life. Demonstrate how the product works in real life to answer these questions. If you are selling a toy, you should show people how can they use it in real life.
💡In your profile Evadav, you can test as many pics as you need and choose the most suitable ones.
🔔 Point out the benefits
Overlaying the benefits of the product or service on an image or video allows the user to immediately see the biggest benefits they will receive from using it.
Pick an image or video that performed well organically and overlay the main benefit of it in text format on top of the image. Add the text on the picture to catch more attention. This is a simple and easy technique that can work well. Highlighting a product's features on a picture can introduce the user to details they may not have noticed before.
🤩 Evadav offers you perfect tools for managing your creatives. Try it! 👉 https://bit.ly/3BTBkzg
Read also: Partnership loyalty system for publishers: even more bonuses and profit