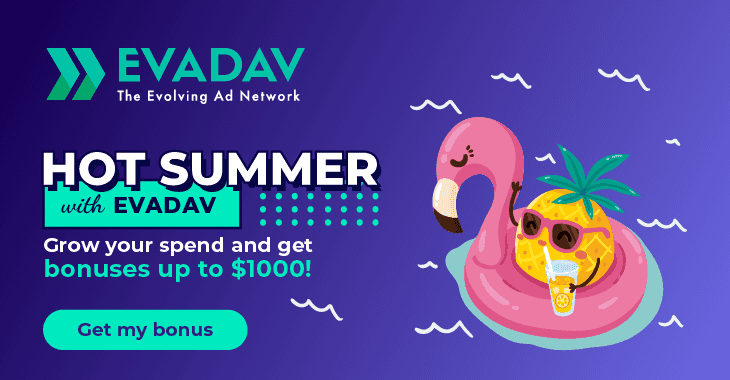 Hot Summer Bonuses from Evadav
Hello, advertisers!
🔥Spring is over, and a hot summer awaits us... And this means that it's high time to grab some hot bonuses from Evadav!
Launch and scale campaigns to get bonuses for balance replenishment🎁
🤑How do I get bonuses?
You will receive bonuses on your next replenishment when you upgrade your account to the next level of our system. All you have to do is:
- Create ad campaigns and scale the current ones in the second half of June (16.06.22 - 30.06.22)
- Optimize them with auto-rules, microbidding and winrate
🤑What bonuses can I get?
Depending on each new level in the system that you have moved to during the period 06/16/22 - 06/30/22, you will be able to receive the following bonuses::
Standard $0-$300 - entry level

Bronze $301-$1000 - your bonus will be $30 on a deposit of $300 or more

Silver $1001-$3000 - your bonus will be $100 on a deposit of $1000 and more

Gold $3001-$8000 - Your bonus will be $300 on a deposit of $3000 and more

Platinum $8001-$25000 - your bonus will be $800 on a deposit of $5000 or more

Diamond $25001+ - your bonus will be $1000 on a deposit of $5000+
💎If you have already reached the Diamond level on our platform, we offer you to scale the spend by 50% compared to early June (01.06 - 15.06) to get a $1000 bonus on any next deposit from $5000.
💸 The higher your level in the system, the more bonuses you can get! Increase your spend and get bonuses.
🤑How do I request a bonus?
You will have 30 days to request a bonus from the moment your account is upgraded. Email your manager in personal messages requesting a bonus on your next deposit and use the funds to promote in Evadav.
🤑How long will the promo last?
⏱️The promo will last from 16.06.22 till 30.06.22. Hurry up to move to the next level to get more bonuses!
🤑Best geo and verticals
In advance to pump your profits, we've collected top verticals and geos for the latest months.
Geos:
🇮🇳India
🇧🇷Brazil
🇮🇩Indonesia
🇺🇸United States of America
🇵🇭Philippines
🇹🇭Thailand
🇲🇾Malaysia
🇻🇳Vietnam
🇮🇹Italy
🇩🇪Germany
🇧🇩Bangladesh
🇯🇵Japan
🇫🇷France
🇲🇽Mexico
🇬🇧United Kingdom of Great Britain and Northern Ireland

Verticals:
❤️dating
💻site content
🕹️gambling
💾software
📱extensions
🌱nutra
🎟️sweepstakes
🛎️services
💵finance
🛒e-commerce
🪙crypto
🛍️shopping
⛓️smartlink
⚙️utility
⚽betting
💸Launch campaigns with Evadav - https://bit.ly/3O8oWBQ
Read also: WinRate for Ad Campaigns