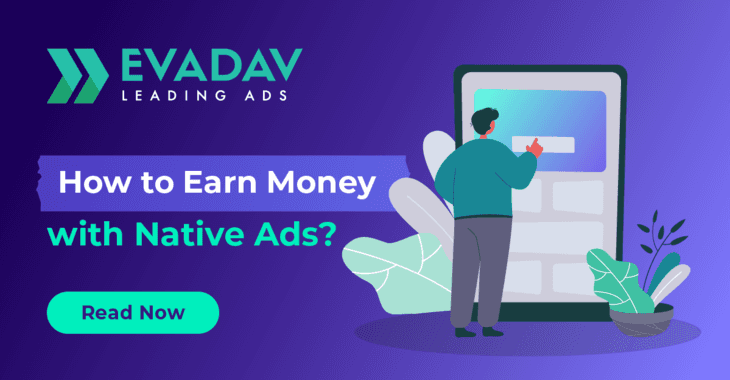 How to Earn Money with Native Ads?
Native ads are rightfully among the most popular forms of advertising nowadays. Their nature makes them blend into the platforms that contain them, from websites to video hostings. Due to being so organic, these non-ad-looking ads collect 50% more views than the other advertisement forms. Still, there are things worth knowing if someone wants to maximize profits from native ads.
📝Be Honest with the Audience
The initial issue with all kinds of advertising is the decreasing audience's trust. Indeed, many people associate ads with deception, and their caution is partially justified. They often refuse to click on an ad, fearing viruses, misleading info, etc. How to build positive relationships with viewers, then?
The key is openly admitting that certain content is an advertisement. While it sounds easy, many companies fail to meet this requirement and lose the audience's hard to regain trust. For instance, followers unsubscribe from content creators who promote goods and hide the info about sponsorship. Instead, mentioning collaborations with other companies shows that the advertiser respects their viewers.
Moreover, a native ad should always contain relevant information. Let's say there is a website about yoga. If it has a paid article about yoga mats or sportswear, people are more likely to read it. Such care about people's interests increases the company's profits and reputation!
🤩Set detailed audience characteristics in your Evadav profile.
📝Choose the Suitable Format
Another way to earn more money with native advertisements is to choose the best format. Generally, companies promote the product or service through:
Articles

Social media posts

Videos

Images
The main goal here is to understand the audience's point of view to meet people's expectations. Naturally, a person watching YouTube doesn't expect a native ad to look like a lengthy article. Instead, a video ad has a higher chance of collecting more views and clicks.
As an illustration, DHL, the logistics company, collaborated with National Geographic. This campaign was effective because the native ad was in the video and appeared on the National Geographic YouTube page. The creators made a documentary about DHL transporting and saving big cats. Such a move made sponsored content blend seamlessly with other similar videos.
Why else is the format crucial for the success of native ads? Catering to viewers means considering their comfort, and adjusting advertisements to people's devices is part of it. Since many use smartphones with small screens and limited monthly data, native ads should eat minimum megabits and be compact.
📝Focus on Variety
Everyone can agree that native advertisements are the best solution for banner blindness. Indeed, they hook people's attention better than display ads. However, no advertisements are immune to the fact that the human brain gets used to them. It happens even to top-tier ad campaigns and has nothing to do with their quality. How to earn money from native ads if they gradually become invisible to viewers?
Novelty is the answer to this question. In practice, even small changes help to regain people's interest. Start by playing with these parameters:
Text or image placement

Fonts

Colors

CTA buttons
Also, using several ad networks is a perfect strategy for an effective campaign. Due to multiple approaches, native ads can gain new characteristics that make them stand out. Sometimes, a different color scheme or banner placement increases views and clicks.
Overall, earning money with native advertisements is possible. The only requirement is a little effort. Stepping into the viewers' shoes helps to understand their point of view, establish trust and boost engagement.
🤩In your Evadav profile, you can test as many native ad creatives as you want. Try now.
Read Also: $4000 on the trading offer with a popunder format from Evadav: a case study for advertisers