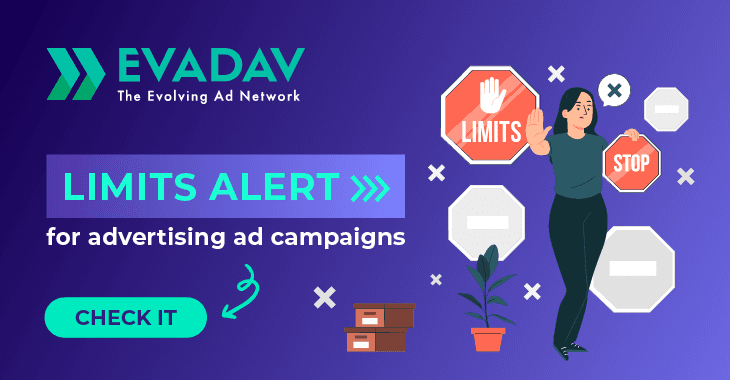 Limits Alert for Advertising Campaigns
😎Hi, Evadavers!
We've added a limit alerts for our advertisers to notify them that their ad campaign limits are about to be reached.
Where can you see it?
In your profile, in the advertising campaigns list.
information on reaching the advertising campaign limit will be visible on the right, in the Budget limit, Click limit columns.
How does this alert work?
✅ When you use 70% or more of the limits, a red icon with fire will appear.
✅ When you click on the icon, you'll see the inscription "70% of total campaign budget spent. Recommended to increase".
✅ Clicking on the "Recommended to increase" inscription opens the campaign editing page, the limits setting section.
💡Always remember: the higher limits you set for your campaigns, the more auctions your campaign will participate in. Also, we recommend that you keep an eye on your balance and, if possible, keep it above $150.
LAUNCH ADVERTISING CAMPAIGNS WITH EVADAV🤑
Read also: WinRate for Ad Campaigns