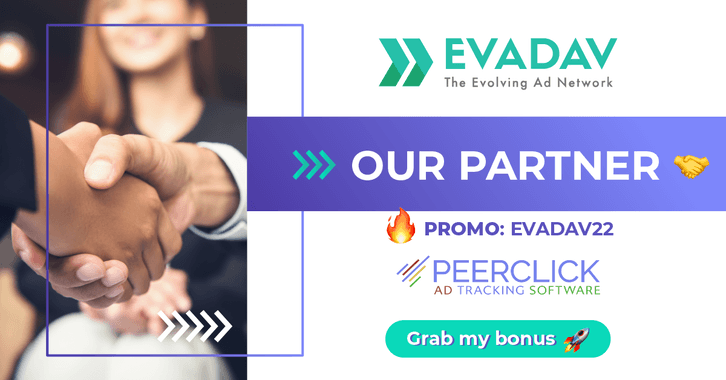 Peerclick and Evadav Bonuses
Peerclick and Evadav have prepared an exclusive deal for you🔥
Get 1 month for FREE + FREE CLOAKING!
👉 All you need to do is to register with coupon code EVADAV22 👈
Everybody knows that in the world of affiliate marketing, there is no worse sin than not tracking your campaigns.📊
However, if you are just starting your affiliate journey your first priority is to focus on ad spends without extra payments. This is where PeerClick can save you.🚀
What is Peerclick?
PeerClick is a cloud ad tracking platform that provides you with profound data analytics and a wide range of optimization tools to maximize your revenue and monetize your traffic efficiently.💰
📣 Peerclick grants all Evadav users 1 mln events for 1 month + you will be able to set up FREE CLOAKING for 1 campaign* to pass moderation in traffic sources!
Main advantages of the tracker:
🔥 FREE ACCESS with 1 000 000 clicks available per month
🔥 SSL certificates for your domains
🔥 There is no need of buying and controlling servers
🔥 Wide functionality for tracking statistics and many rules for traffic distribution
🔥 Anti-fraud system for detecting bad quality traffic sources
🔥 Detailed manuals and video lessons
🔥 Landing pages protection from spies and convenient cloaking tool
🔥 Highly responsive support
*cloaking campaign is available for 1 month after subscribing to Free Plan