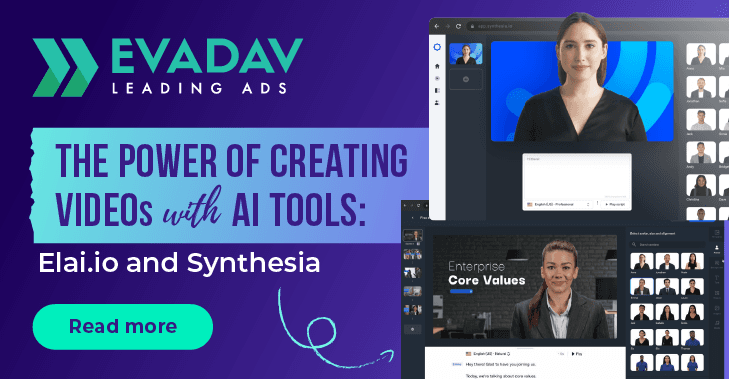 The Power of Creating Videos with Ai Tools
In recent years, artificial intelligence (AI) has made significant strides in transforming various industries, and the world of video production is no exception. AI-powered video creation tools are revolutionizing the way videos are made, allowing individuals and businesses to produce professional-looking content without the need for extensive technical expertise or costly equipment. Two notable players in this field are Synthesia and Elai. In this article, we will explore how to make videos with artificial intelligence and how Synthesia and Elai are making their mark in the AI game.
🔮Understanding AI-Powered Video Synthesis
AI-powered video synthesis involves using advanced algorithms and machine learning techniques to generate realistic videos by manipulating and combining existing visual and audio elements. This technology allows users to create videos that appear as if they were captured by cameras, featuring real people, places, and objects, even though they are entirely computer-generated. Here is how to get started with ai video creation:
Choose the Right AI Video Creation Tool: Begin by selecting an AI-powered video creation tool that aligns with your needs and objectives. Synthesia and Elai, for example, offer a user-friendly platform that enables users to create videos by leveraging their AI technology.
Scripting: Before diving into the video creation process, it's essential to have a well-defined script outlining the content, scenes, and dialogue of your video. The script will serve as a guide throughout the production process and ensure a coherent and engaging video.
Selecting Avatars and Settings: AI video creation tools often provide a wide range of avatars and settings to choose from. Avatars can be human-like or stylized characters, and settings can include diverse backgrounds, locations, and props. Consider your target audience and the message you want to convey when selecting these elements.
Customization: Many AI video creation tools allow users to customize avatars by changing their appearance, clothing, expressions, and gestures. This customization option adds a personal touch to the videos and makes them more relatable to the intended audience.
Voiceover and Audio: AI tools also offer the ability to synthesize speech using text-to-speech (TTS) technology. Users can input their script, select the preferred voice style, and generate high-quality audio narration for their videos. Additionally, background music and sound effects can be added to enhance the overall experience.
Editing and Post-Production: Once the video is generated, it may require some additional editing and post-production work to refine the final result. Most AI video creation tools offer built-in editing features or allow the exported video to be edited using traditional video editing software.
🔮Synthesia: Empowering AI Video Creation
Synthesia is a leading player in the AI video creation landscape. Their platform allows users to create videos featuring 125 AI-powered avatars with realistic human-like movements and expressions. The company's proprietary technology uses deep learning algorithms to map facial movements from real actors onto the selected avatars, resulting in highly realistic and engaging videos.
The tool gives the possibility to make a top-notch video in 15 minutes with no special knowledge. More than 50k companies in different domains like sales, education, and communications use Synthesia to replace documents and presentations with powerful videos.
The applications of Synthesia's technology are diverse. From corporate training videos to personalized marketing campaigns, the ability to create videos efficiently and affordably using AI has the potential to transform industries across the board. Brands can leverage AI-powered videos to deliver personalized messages, engage with their audience, and tell impactful stories in a visually compelling manner.
🔮ELAI.IO Video Creation Tool
Elai.io offers a wide range of features that simplify and enhance the video creation process. Some notable features include:
AI-Powered Video Editing: Elai.io leverages artificial intelligence algorithms to automate and streamline video editing tasks. It can intelligently analyze raw footage, detect key scenes, suggest cuts, apply transitions, and even generate captions, saving significant time and effort.
Rich Media Library: With Elai.io, users have access to an extensive media library containing royalty-free images, videos, music, and sound effects. This diverse collection enables creators to find the perfect elements to complement their videos, enhancing their overall quality.
Customizable Templates: Elai.io provides a collection of professionally designed templates that can be customized to suit specific needs. Users can easily add their brand elements, logos, and text to create visually appealing videos that align with their brand identity.
Voiceover and Text-to-Speech: The tool allows users to add voiceovers to their videos or generate high-quality text-to-speech narration. This feature is particularly useful for tutorial videos, e-learning content, or when a professional voiceover artist is not readily available.
Translation: The content you want to place in your video can be easily translated into more than 75 languages without any help from localization team.
Common Use Cases for Elai.io:
Elai.io finds applications in a wide range of scenarios, including:
Marketing and Advertising: Businesses can leverage Elai.io to create captivating promotional videos, advertisements, and explainer videos that effectively communicate their brand message and drive conversions.
Education and Training: Educators, trainers, and e-learning platforms can utilize Elai.io to develop engaging educational videos, instructional content, and interactive training modules.
Social Media Content: Elai.io simplifies the process of creating attention-grabbing videos for platforms like YouTube, Instagram, TikTok, and Facebook. Creators can produce visually appealing content that stands out amidst the social media noise.
Event Coverage and Highlights: Elai.io allows event organizers to create dynamic highlight reels, event summaries, and recaps. These videos help capture the essence of an event and engage attendees and potential participants.
🔮Synthesia vs Elai.io Explored by our Team
Evadav team tested a free trial of both Synthesia and Elai video generation tools. We registered on the sites of the tools and here is what we have:
Synthesia:
offers more than 60 templates for videos.

on a free trial allows creating a very short video with only 100 chrs.

you can choose any avatar and place it on your video

when you finish, they send you the link to your video. We discovered that the image content was not related to the script (we wrote a script on how to use Evadav profile).

doesn't allow even entering your account as soon as you finish your 'free trial task' and shows only the pricing plans.
Elai.io
Elai offers over 450 voices to choose from for your video

free trial of Elai.io gives the possibility to create a one-minute video

can render one slide of the video at a time, so if you trial video contains 3 pages, render them one by one.

the profile seems to be far more user-friendly than in Synthesia tool.

you can choose which device to make a video: desktop or mobile.

allows you to download a video with ease.
🔮To Sum Up
Elai.io's and Synthesia AI-powered video creation tools empower users to produce professional-quality videos with ease and efficiency. They are both good tools, however, Elai.io trial looks better than those of Synthesia.
💰Explore the possibilities of ai and launch your campaigns with Evadav
Read also: Where to Find Ideas for Ads?