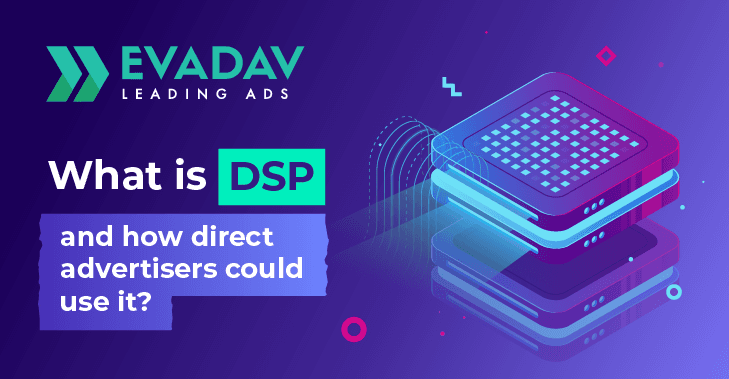 What Is DSP and How Direct Advertisers Could Use It?
All direct advertisers wonder about which strategy to implement to reach potential clients. As time goes by, these methods become more sophisticated. Today, demand-side platforms get the spotlight. Markedly, the DSP platforms' global market size in 2022 equaled over $21bln. So, what does DSP stand for in advertising? Read and find out!
Defining a DSP meaning with a few words is almost impossible. This technology carries too many functions to fit them into one DSP definition. But, many refer to DSP as a marketing automation instrument that allows advertisers to find publishers:
First, the advertiser creates a campaign and defines its core characteristics.

Secondly, a DSP platform receives information about available publishers.

Finally, a demand-side platform purchases an ad placement for the advertiser with the winning bids.
To put it differently, DSPs work as online auctions where artificial intelligence and machine learning decide the perfect time and place for online advertising. The two major demand-side platform types differ in functionality:
Full-service DSPs carry out the campaign from start to finish

Self-service DSPs require having a team of experts in the advertiser's company
So, what is DSP in advertising? Here is the explanation!
💡Targeting Audiences
To turn Internet users into leads or customers, direct advertisers must know whom to contact first. For this purpose, marketers perform user profiling, meaning analyzing people's characteristics and behaviors.
Again, before the rise of DSPs, this work was all manual. Since the number of possible parameters is massive, humans can omit something important. On the contrary, DSPs manage to consider multiple kinds of data for direct (vertical) targeting, including:
Geographical location

Type of device

Previous searches

Job

Clicks on other adverts

Operating system

Connection type, etc.
Direct advertisers who use DSPs can choose the parameters for vertical targeting to make personalized messages.
A DSP platform also carries the function of lateral targeting, which works for specific campaigns and new markets. In this case, a demand-side platform user enters a unique combination of parameters defining the target audience.
Once a DSP's user decides on the audience criteria, the demand-side platform alters its strategy. It purchases ad impressions where people with the needed characteristics are most likely to see this DSP advertising, including:
Display ads

Native ads

Video ads
💡Retargeting
What is demand-side platform retargeting function? Although this process is similar to targeting, it aims to reach people interested in specific products or services:
First, a DSP platform analyzes previous consumer behavior, like the visited sites, changes in their online shopping carts, and recently searched goods.

Next, a demand-side platform generates an ad using templates, pics, and text.

Finally, DSP platforms contact supply-side platforms (SSPs) to place their banners for interested audiences.
💡Campaign Analysis and Optimization Possibilities
For direct advertisers, knowing the efficiency of their campaigns is crucial. Companies set specific KPIs and attempt to reach them throughout certain periods. However, doing this task with digital assistants like demand-side platforms is much easier. Often, advertisers can't fix problems instantly because the delays on reports are hours long.
A DSP platform helps solve the issue in seconds if something goes wrong. As a result of timely optimizations, the campaigns become more relevant. The analysis and optimization process looks like this:
A demand-side platform uses different metrics to evaluate traffic quality and consumer behavior after seeing the ad.

A DSP identifies the cons of the current strategy.

The detailed report allows direct advertisers to improve the campaign and maximize the effect on the viewers while optimizing the budget.
These reports include such statistics:
Effective cost per click

Effective cost per action
💡Accessing SSPs Worldwide
Nowadays, there are endless sources of inventory all over the world. Still, direct marketers need help with finding publishers. So, what is the problem? The thing is, many brands focus on finding only safe and high-quality traffic sources for their advertisements.
Under these circumstances, employing a demand-side platform is the best course of action. DSP platforms perform the following functions:
Store information about all traffic sources.

Help with finding the publishers that fit the campaign the most.

Perform bidding and calculations in milliseconds.

Choose only high-quality traffic sources.
These traffic sources can include:
Websites

Mobile applications

Advertising platforms, etc.
Generally, demand-side platforms manage to do multiple jobs quickly. With the help of AI and machine learning that DSPs boast, direct marketers can meet all their goals with minimum effort!
Read Also: Top 50 Affiliate Marketing Conferences and Events to Visit in 2023: Part 2